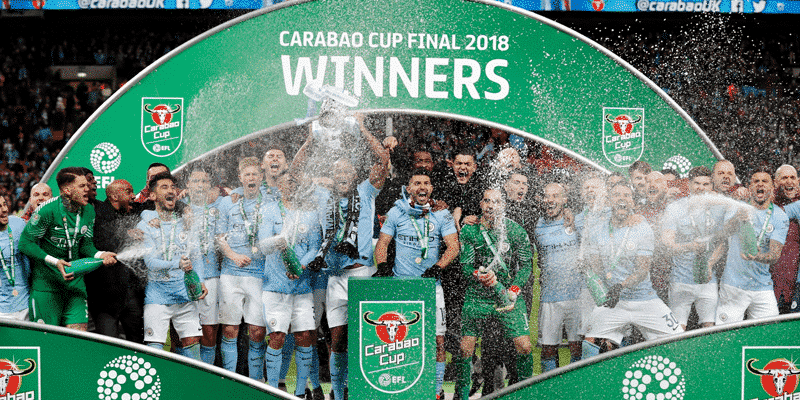 The English League Cup is one of the three major competitions teams in the English Football League can win. This is along with the English Premier League (or your divisional equivalent) and the FA Cup. We are going to take a look of the history of the League Cup, take a look at the most successful teams in it, show you the records of both individual and teams, consider what betting markets you can take advantage of look at the best Betting sites for the English League Cup. 
English League Cup History
Also known as the EFL Cup, the League Cup is currently called the Carabao Cup as this is their current sponsor. Open to all members of the Football League which totals 92 two teams, it was first held in 1960-61. They are currently all one-legged tied until the semi-final and extra time is only used in the final. The introduction of it was directly aided by the fact that teams now had floodlights, meaning games could be held midweek which they still are to this day. In fact, the only match not now held midweek is the final.  
The tournament format has not changed a great deal and it is a direct knockout competition held over seven rounds. Recent years have seen the introduction of a seeded system whereby higher ranked teams and those involved in European football enter in the latter rounds.  
The League Cup was initially introduced when attendances at English football matches were down. It was met with a lukewarm reception with many considering to be adding quantity as opposed to quality into the league season, this debate still remains to this day. Aston Villa won the first competition in 1960-61 whilst the first time Wembley hosted the cup was in 1967 when a third-tier side, Queens Park Rangers, lifted the trophy.  
It was not long before UEFA granted the winners a place in the UEFA Cup, however this was a direct result of the Football League threatening to withdraw from European competition if this was not awarded. This increased the standing of the competition with teams beginning to take it seriously. Whilst Manchester United refused to enter in 1968-69 and Everton doing the same in 1970-71 it became an obligation of a club to enter the following season.  
English League Cup Winners
Liverpool – 8 
Manchester City – 6  
Manchester United, Aston Villa and Chelsea – 5 
Tottenham & Nottingham Forest – 4 
Leicester City – 3 
Arsenal, Norwich City, Birmingham City, Wolverhampton Wanderers – 2 
West Bromwich Albion, Middlesbrough, Queens Park Rangers, Leeds United, Stoke City, Luton Town, Sheffield Wednesday, Swindon Town, Oxford United, Blackburn Rovers, Swansea City –1  
English League Cup Records
Most Tournament Wins – Ian Rush (5) 
Highest Goal Scorer – Geoff Hurst & Ian Rush (85 Goals) 
Most Goals In A Season – Clive Allen (12 Goals) 
Biggest Win In A Final – Swansea City 5-0 Bradford City (2013) 
Youngest Goal Scorer In The Final – Norman Whiteside (17 Years – 1983).