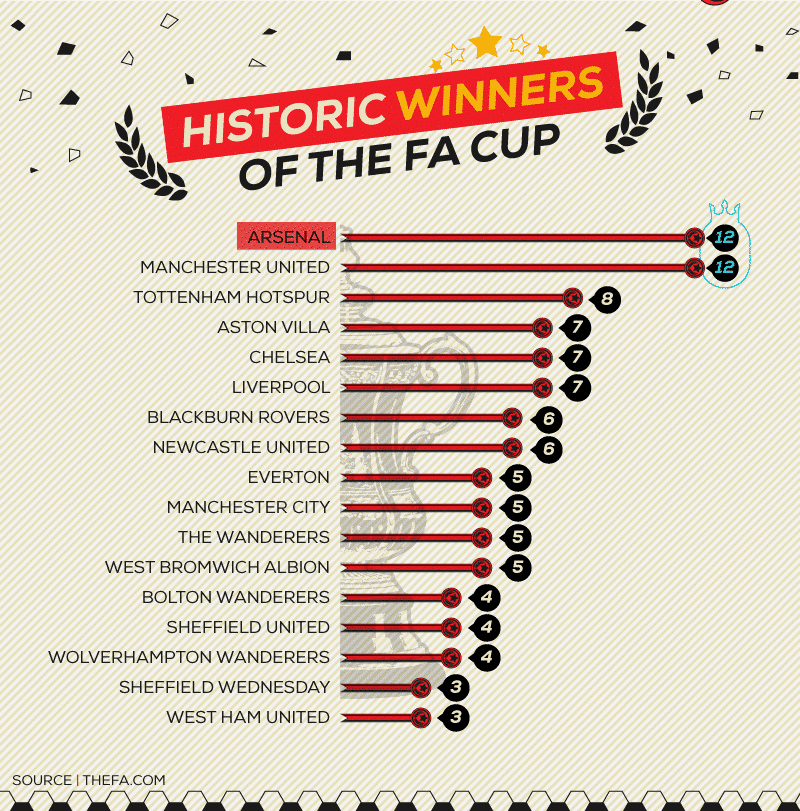 The FA Cup is the oldest cup competition in football. The annual knockout competition open to professional and amateur football clubs was first held in 1871-72 and is steeped in history. The competition is open to any club down to level 10 for the football pyramid with football league clubs entering after the qualifying rounds have been completed. Top tier clubs enter at the third roundstage. There are a total of eight rounds, the final two of which being held at the iconic Wembley Stadium. We are going take a short look at the history of the FA Cup, provide you with some of the records which currently exist. If you love to have a little punt during this tournament we have some amazing FA Cup Betting Sites promotional offers available.
FA Cup History
The FA Cup was created in the offices of the Sportsman newspaper when FA Secretary C.W. Alcockproposed a Challenge Cup back in 1871. The first competition started that same year with just 13 games in total, the winners of the competition being Wanderers. They also retained the competition the following year. The first final to be held at Wembley was in 1923 with the final being down as the "White Horse Final". As early as 1927 "Abide With Me" was sang at the final and that has become very much an FA Cup tradition. The only time the final has not been played at Wembley was between the years of 2001-2006. This was due to its redevelopment and it was held at the Principality Stadium in Cardiff (Millenium Stadium at the time). 
Welsh sides that compete in the English league can take part in the competition. When the competition was in its earnest Irish and Scottish teams also took part with Glasgow outfit Queens Park losing in the final in 1884 and 1885.  
It is very uncommon for teams not compete in the FA Cup. One of the only examples of this was when Manchester United declined to defend their title in 1999-2000 due to their involvement in the inaugural Club World Championship. This was met with extremely bad press. 
Since the FA Cup began there has been won by 43 teams, many of which no longer exists. Here are the most prolific winners: 
Arsenal – 13

Manchester United – 12
Chelsea –8
Tottenham Hotspur – 8
Liverpool – 7
Aston Villa – 7
Newcastle United – 6
Manchester City – 6
Blackburn Rovers – 6

 
It is Leicester City who can probably consider themselves the unluckiest team in the FA Cup, they have contested four teams without victory. No other team has lost more than 2 without winning it.  
Records 
Most Consecutive Wins – Blackburn & Wanderers (3) 
Most Appearances In A Final – Arsenal & Manchester United (20) 
Longest Gap Between Winning – Portsmouth (69 Years) 
Most Wins By A Player – Ashley Cole (7) 
Most Wins By A Manager – Arsene Wenger (7) 
Most Goals In Finals – Ian Rush (5) 
Most Finals Scored In – Didier Drogba (4) 
Youngest FA Cup Finalists – Curtis Weston (17 Years)