Tonight see's the 2019 UEFA Super Cup Final take place in Istanbul. For the first time in the competition's history the match is being contested between two teams from the English Premier League.  If you fancy a punt on the Super Cup or love a weekend punt on the league games we have a great breakdown of The Best Football Betting Sites
Super Cup History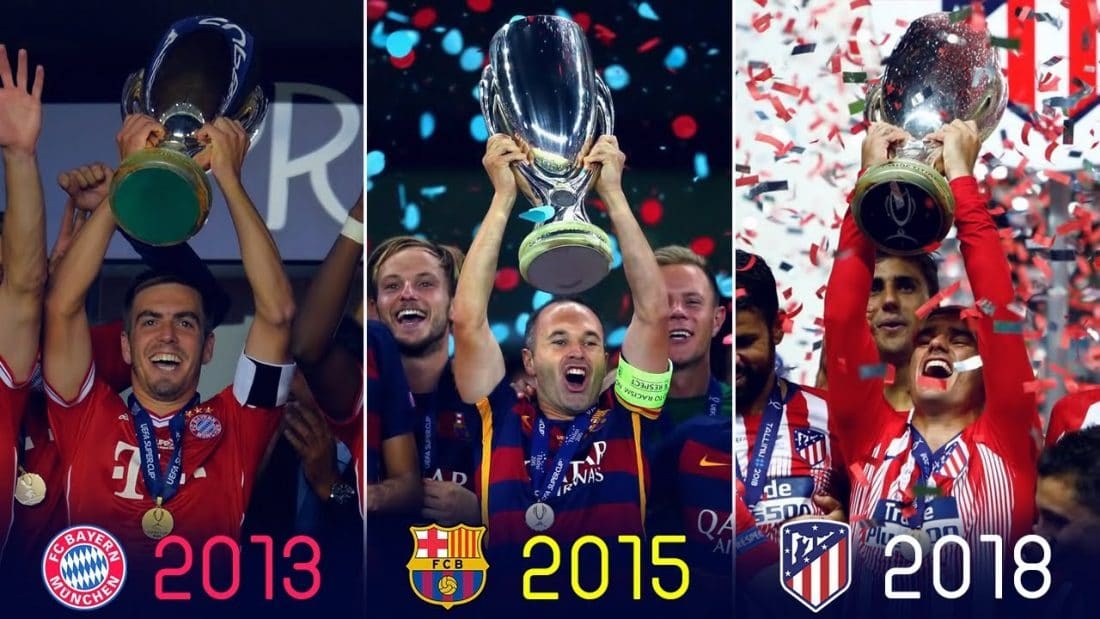 Those two teams are of course Liverpool and Chelsea, respective winners of the Champions League  and Europa League finals. History is in favour of Liverpool's with regards to UEFA super cup results, this is because only one in the last six years have the Europa League Final won the Super Cup, that was in fact last year when Athletico Madrid beat Real Madrid after extra time.
Both of these teams have contested the final before. Liverpool have been in it an impressive five times. The most recent of their three wins came in 2005. Chelsea have been in it three times and won it for the only time in 1998.
The competition was previously for the European Cup and European Cup Winners Cup winners. The Cup Winners Cup winners competition then merged with the UEFA Cup to form the Europa league and this was the competition that was then used. x`
The most successful UEFA Super Cup Winners are Barcelona and AC Milan, both of whom have won it five times. In terms of British clubs, Manchester United, Nottingham Forest, Aston Villa and Aberdeen have also won the competition.
In terms of winners by country Spain are streets ahead on 15 wins, Italy have 9 and England 7. Surprisingly Belgian and Dutch representatives have won it more than the Bundesliga who only have the one victory.
The final was previously contested over two legs, home and away. Since 1998 it has been a one-off tie. This was held at Monaco's Stade Louis II Stadium but since 2013 has been moved to different stadiums on each occasion.
The first ever final was unofficially held in 1972 between Rangers and Ajax which Ajax won 6–3. This final was considered unofficial because UEFA refused to endorse it following Rangers fans behaviour during the 1972 European Cup Winners Cup Final.
If you were looking to bag yourself 2019 UEFA Super Cup tickets, 40% of the tickets were available via a ballot that could be entered. The other 60% of tickets are sent to tickets individually.
Tonight's Prediction
Both teams come into this match after extremely contrasting fortunes at the weekend. Liverpool beating Norwich comfortably 4-1 on Friday whilst Chelsea suffered a surprise 4-0 hammering at the hand of Manchester United. What was most alarming for Chelsea followers was the ease with which they were opened up defensively. They controlled most of the game on Sunday but looked astonishingly inept at the back. When you consider the Liverpool forward line of Salah, Firmino and Mane they will be licking their lips at the prospect of a repeat of the performance from the Chelsea backline, it is for that reason, plus the fact that Liverpool are quite simply a better side, that a comfortable 2-0 victory is predicted for the Reds.