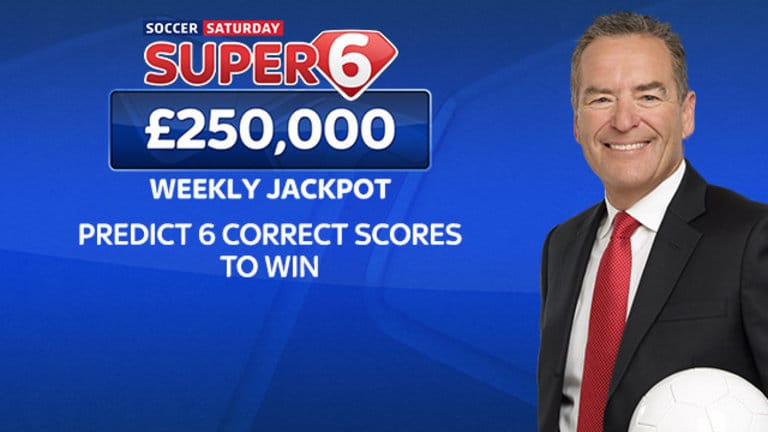 Sky Sports Super 6 is a FREE football prediction game created by Sky Sports that can net you a gigantic £250,000 prize if you can choose six correct scores from a weekly football match list correctly. This sounds like a hard job, but Sky guarantees a £ 5,000 award to the highest points scorer every week to keep players interested.
So you want to give it a bash and try win the money? Here's our full guide for this wonderful promotion that has football fans throughout the nation very excited!
Play Sky Sports Super 6
First off you will need an account to access this game. This is really straight forward and will not take long! Skybet will need your details if you are the lucky winner of the grand prize!
If you already have an account, all you need to do is log in with your existing  username and pin, things can't be much easier than that! If you are new to this bookmaker Skybet have a very generous welcome offer. 
Making your Super 6 picks
This is where your understanding of football goes into play. All you need to do is  predict correct scores for the six games the Sky Sports Super 6 team has selected to be in with a chance to win £ 250,000.
As mentioned earlier, don't be concerned if you don't predict all six results correctly–if no one gets all six matches correct, the player with the week's highest score will receive £ 5,000.
The games chosen for the Sky Super 6 competition will be chosen from any UK league, including Scottish Premier League and international matches. Make sure your picks are entered before the first game starts though, after checking you've scored a huge amount of points, you don't want to be cursing at your bad timing!
You're also being to enter your Golden Goal time, This is used as a tiebreaker technique if the weekly award is won by more than one winner. Your prediction of the time of the first goal to be scored in the six matches is the' Golden Goal.'
Sky Super 6 Mobile
If you can't access a laptop or PC not an issue! You can use the mobile app that is available for all smartphones to get your Sky Super 6 picks on just as easily. The mobile app is so simple to use and you can make your selections in less than a minute once you have logged in. Perfect for doing other things when you're busy but still want to be in with a £ 250,000 winning shout!
If you find it hard to make your projections, why not use the Soccer Saturday panel's knowledge? Jeff Stelling, Jamie Redknapp, Dale Tempest  and Ed Chamberlain all make their opinions available on both desktop and mobile platforms… Perhaps they'll assist you win the Jackpot!
How your points are calculated
is all about objectives, knowing precisely where they come from. It's also a huge plus to be able to pick a winner, so seasoned football punters should be licking their lips at this!
You get two points to choose the result of a game properly. For example, if you've expected Liverpool winning 2-1, but they actually win 2-0, you're going to score two points. If you also get the score right, you'll get a maximum of five points.
The Important Part
This is where you can convert your prediction skills into money!
The highest score you can get in any single game is five points (two for the right team winning or five to predict the correct score). As mentioned above, your' Golden Goal ' time becomes the decisive factor if you tie at the top of the leaderboard.
Once the football match is finished, you can check your points and compare them with the remainder of the league by clicking on' My Account,' which will also show you where you are in the monthly rankings and all the time.
Now you've got all the details you can go try your luck on winning the massive £250,000 prize!