The Biggest Champions League Comebacks – Our Favourite Matches
Published: March 13, 2017
Author: BFB Admin
Last Updated: January 19, 2023

The Champions League is one of the most exciting football competitions, with viewers tuning in from all around the world to watch Europe's best teams play. With so much at stake in the knock-out stages of the competition, the games can be really exciting and part of the reason why betting on the Champions League can be exciting.
Barcelona's recent thrashing of PSG touted by the media as possibly the biggest Champions League comeback shows just how these two-legged games can be turned on their head. Whether the fans agree or not that it's the biggest comeback ever, we've decided to look at our favourite and biggest Champions League comebacks.
Barcelona vs Paris Saint Germain – 2017
Barcelona win 6-1
The first leg of this game saw PGS win 4-0 against Barcelona, a game that shocked many and is one of the most remarkable games in the Champions League history. Barcelona struggled with Paris SG's attacks that night and it seemed to be too big a deficit for the Spanish giants to come back from.
Little did the fans and media know that the second-leg of the game would result in an even bigger shock! Barcelona won 6-1 against PSG to end two legs on an 6-5 aggregate.
I am in complete shock! This is unbelievable. This beats Manchester United vs Bayern Munich and Milan vs Liverpool. Greatest comeback.
— Mustafa (@POL1T1CS) March 8, 2017
The game wasn't without controversy, though, with the referee Deniz Aytekin being criticised for a number of decisions. A petition to replay the game reached well over 100,000 signatures!
Liverpool vs AC Milan – 2005
Liverpool win on penalties
Most definitely a modern Liverpool fan's proudest moment. In the 2005 Champions League final, we saw Liverpool's amazing comeback against AC Milan.
Liverpool vs AC Milan is the greatest comeback of all time because it happened in 45mins and it was a final
— Ra's Al Ghul (@uNgcebo) March 8, 2017
The match didn't start well for Liverpool, with Milan scoring within the first minute. Liverpool's goalkeeper Jerzy Dudek starred throughout the first half, making a number of crucial saves from Kaká and Shevchenko. Even with Dudek's saves, the first half ended with AC Milan 3-0 up and with a comfortable lead. With just 45 minutes to go they had a big buffer to surely win the game and gain the Champions League crown…
The second half saw a remarkable comeback by Liverpool. Captain Steven Gerrard starred as Liverpool brought the game to 3-3. Before 90 minutes was up, there were chances for both teams to win, but it ended 3-3.
Extra time saw no goals. Dudek was the hero again saving a double shot from Shevchenko.
Liverpool won the penalty shootout 3 – 2. Jerzy Dudek once again saved from Shevchenko to end Liverpool's night in euphoria.
Not only was this a Champions League comeback, but this comeback won Liverpool the final.
Manchester United vs Bayern Munich – 1999
Manchester United win 2-1
Talking about finals, English fans will remember the other Champions League final comeback. In 1999 Manchester United played Bayern Munich in the final.
The game didn't start well for United, with Bayern Munich scoring within 6 minutes.
It was a hard-fought game, and both teams had chances. However, as the game reached 90 minutes, it was still 1-0 to Bayern Munich.
The game went into injury time. After a scrappy corner, Teddy Sheringham managed to score at 90+ 36 seconds. This dramatic turn looked like Manchester United had forced the game into extra time!
Little was everyone expecting that at 90+ 2 minutes and 17 seconds, Alex Ferguson's super-sub Ole Gunnar Solskjær would score again from another corner to win the game.
The result left Bayern Munich completely shocked, as at 90 minutes they thought they had won the title. Everyone was so certain that Bayern Munich had won, that their ribbons had already been attached to the trophy!
Bayern Munich vs Porto – 2015
Bayern Munich win 6-1
Bayern feature again in a Champions League comeback, but this time, they are the victors!
Porto won the first leg of the game 3-1, which meant Bayern Munich had the challenge of winning 2-0 at home in this crucial leg of the Champions League quarter finals.
The hosts did much more than expected, scoring 5 goals in the first half! Porto improved a bit after the break, but Pep Guardiola's Bayern remained strong, scoring a final goal in the 88th minute.
The game ended 6-1 – (7-4 on aggregate).
Barcelona vs Chelsea – 2000
Barcelona win 5-1
Barcelona appear once again in the list, with a huge comeback over Chelsea in 2000.
The first leg of the quarter-final ended with a comfortable lead for Chelsea which they needed before travelling to Barcelona. However, Barca did get their needed away goal.
Like the Bayern vs Porto match above, Barcelona needed a 2-0 victory to secure their Champions League comeback.
Barcelona attacked and scored 2 goals before half time, bringing the aggregate back to 3-3 and in line to win the game.
Chelsea managed to get a goal back and it looked like they were going to win the game. However, the almost 100,000 crowd was in store for an amazing comeback.
Dani scored for Barcelona taking the game into extra time. Barcelona then scored two goals during extra time to send Chelsea home in tears.
The game ended 6-4 on aggregate to Barcelona.
Chelsea vs Napoli – 2012
Chelsea win 4-1
The next comeback sees Chelsea feature again. Napoli had won the first leg 3-1 and although they got an away goal, Chelsea had a lot to do in the second leg of their last-16 fixture.
The game didn't start well in front of the home crowd, with Napoli having a number of close chances. However, just before the 30 minute mark, Drogba got a goal for Chelsea. Just after the break John Terry grabbed a second from a headed corner. With Chelsea 2-0 up before 50 minutes, the game was at a 3-3 aggregate, with Chelsea going through on away goals.
However, at 55 minutes Gokhan Inler scored for Napoli putting the game result into doubt and tying knots in Chelsea fans hearts! Things weren't going Chelsea's way as Napoli pressed and almost got a few more goals.
However, Chelsea got some luck and Frank Lampard scored a penalty on 75 minutes after a handball incident. This pushed the game into extra time (4-4 aggregate).
At the 105 minute mark, Drogba combined with Ivanović, who fired home what was to be the winner in the game. Stamford Bridge erupted as the fans celebrated this amazing Champions League comeback.
Chelsea then went on to win the Champions League final in this year.
Monaco vs Real Madrid – 2004
Monaco win 3-1
This game saw a surprising Champions League comeback by Monaco in 2004.
Real Madrid had won the first leg 4-2 and were in a comfortable position to head into the semi-finals of the competition.
The game started well for Madrid, with stars such as Zidane Raul, Ronaldo and Figo dominating the game. Raul 35 minutes in what looked like a defining goal for the game.
However, just before half-time Monaco got a crucial goal back. The teams went into the dressing room with a 5-3 aggregate. All Real Madrid had to do in the second half was protect their lead in the game. After Real controlled the game for the first 3o or so minutes of the second half, Monaco got back in it with a goal on 48 minutes. Another from Ludovic Giuly on 66 minutes put Monaco ahead on away goals! The game ended frantically with Real Madrid having many near misses. The Monaco fans got the Champions League comeback no one expected!
Monaco went on to beat Chelsea in their next game, then lost in the final to José Mourinho's Porto.
Leicester City vs Sevilla – 2017
Leicester win 2-0
An extra Champions League comeback for you after Leicester's emphatic win over Sevilla.
The first leg of this Champions League tie saw Leicester City go 2-0 down to Sevilla, who dominated the game. 17 minutes from time though, Jame Vardy got an away goal for his team. The game ended 2-1 to Sevilla. Goalkeeper Kasper Schmeichel made several crucial saves in the game, including a penalty save which kept Leicester in the tie.
Between the first and second leg of this tie, manager Claudio Ranieri was sacked and Craig Shakespeare took over.
Leicester city looked a transformed team in the home leg. A goal in both halves of the game saw them go 2-0 up. They survived a few attacks from Sevilla and Kasper Schmeichel saved another penalty for the game to remain 2-0, with a final aggregate 3-2.
While coming from 2-1 down isn't such a big comeback as others, we have to look at the teams who took part in this game. Leicester City, who pulled off what has been described as the biggest football shock of all time in 2016 by winning the Premier League, are facing relegation this year after a very poor season. It's also their very first time in the Champions League. Leicester's opponents were Sevilla who are currently placed 3rd in the Spanish La Liga, 3 points off Barcelona, and 5 points off Real Madrid. This was a very mismatched fixture, with Leicester pulling off the comeback they needed to get into the Champions League quarter-finals. Could they possibly pull off what's need to progress to the final?
Liverpool v Barcelona 2019
Barcelona were on the end of another astonishing comeback in the following years semi final. This time around Liverpool were undoubtedly given a bigger chance than Roma, but this looked unlikely after Barcelona thumped Liverpool 3-0 in the first leg at the Nou Camp. Liverpool were thankful it wasn't more when despite putting up a great showing for an hour before they shaded it, Barcelona turned the screw and could have added more at the death.
The second leg was a totally different affair and will be remembered as one of Anfield's greatest European nights.
Barcelona putting in a performance distinctly similar to that against Roma. Messi, so influential in the first leg, was on the periphery. Origi started the ball rolling after 7 minutes and whilst Liverpool could not add to their tally in the first half, it was completely evident that the comeback was on. When Wijnaldum scored two in two minutes just short of the hour mark it became clear there was only going to be one winner.
Origi completed the comeback with ten minutes left and Barcelona never looked like finding the away goal that would send them through. Liverpool of course went on to win the 2019 Champions League.
Ajax v Tottenham
2019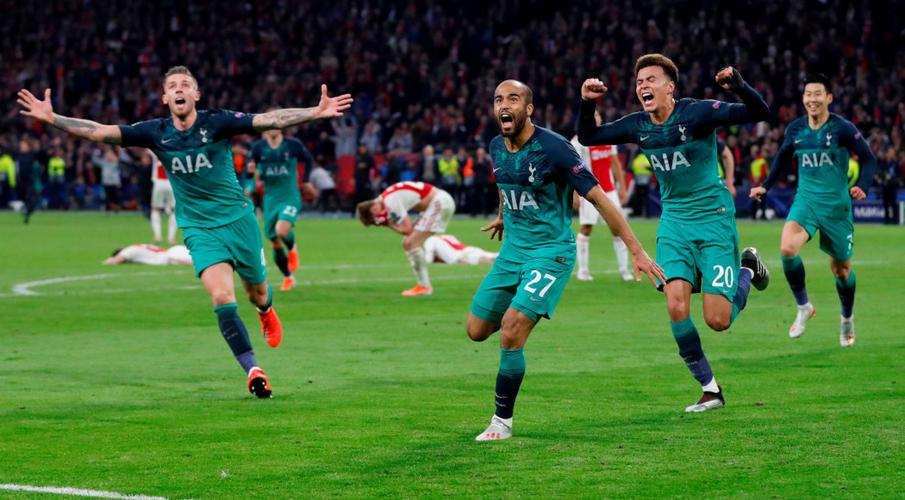 In the other semi-final that season there was another astonishing comeback. Tottenham headed into the two-legged tie as slight favorites. However, a meak display at home in which they went down 1-0 had severely dented their chances of making their first ever Champions League Final.
Things worsened early on in the second leg when one of the many Ajax prospects, Matthijs de Light, made it 2-0 on aggregate after just five minutes. The lead was increased to 3-0 before half-time and the Londoners looked dead and buried.
The second half was a totally different story. Lucas Moura scored a quick fire double (55,59). Ajax looked like they had held out after Vertonghen hit the bar late on. However Moura struck again in the 6th minute of added time to set up an all English final with Liverpool.
Biggest Champions League Comeback Stadium?
You may have noticed that this the third Champions League comeback at the Nou Camp, with the Manchester United vs Bayern Munich final having also taken place there as well. It's safe to say that while it's hard to pick the biggest Champions League comeback, the Nou Camp is surely the stadium that has seen the most of them!
Betting on Champions League Comebacks
Some serious money can be made if you guess that a team will make a comeback in the CL. Obviously, the odds are doing to be heavily against the team that is down because as the stats show that it's very hard to come back from a deficit like this. However, history shows that it does happen. Our favourite comebacks above prove this. It's always hard to predict comebacks though, so if you do, well done!